When it comes to COVID-19, we are all suffering. Some of us have gotten ill, and others have had to dramatically change their lives. One thing that is constant though is that we have all the needed food and exercise. The gyms are closed, so we may have tried walking outdoors.
People in big cities really can't do this though without a mask or driving out to the country. This is why building up one's home workout equipment is so vital. You can get the NordicTrack T6.5 Series Treadmill and start getting fit again. In the following article, we will do a review of this piece of equipment.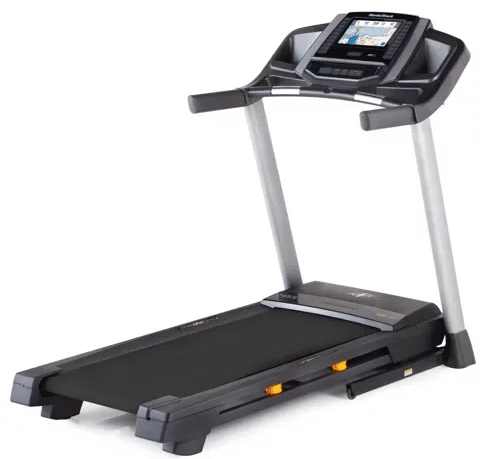 Buy Something Reasonably Priced and Not Expensive
First, when it comes to pricing, this treadmill is reasonably priced at around $600 right now on sale. It is a good time to buy because the regular price is $1299.
There is a definite plus to buying a treadmill that is really affordable. You could get one with additional bells and whistles, even in this line, but it would cost $1000. It might be better to stick to something simpler if you are looking for a solid piece of machinery at the beginner level.
All of the Features that You Get in this Treadmill
The lane on this treadmill is wide. This can be good for people who are a bit clumsy. The wider track is more accomodating. Also, there is a cushioning system that makes it easier on the joints.
Realated: NordicTrack Commercial 1750 Treadmill Reviews- Does This Really Worth Buying?
Those who are worried about running injuries will be glad about this feature. It's especially important to have this feature if a person is a runner. Those who run put quite a bit more strain on their joint in the impact process. This is why the Flex Select Cushioning is the desired setting.
However, for people that like a firm surface that more closely resembles the outdoors, there is the option to do this as well. This is really what makes the settings so versatile. Those who walk only might not need such strong cushioning. There are also monitors on the sides to test out your heart rate.
These are easy to use with just the touch of a button. It does have a weight capacity of 300 pounds though, so people that are morbidly obese cannot use this treadmill.
Related: Best Treadmill For Home Use
The Programs and Incline Offered
In terms of incline, the NordicTrack T6.5 raises to a 10% incline. This is better for people that do cardio training, but not as sufficient for those who do interval training. There are twenty programs on this treadmill. This is better than the norm for other treadmills, which is usually ten.
There is also a water bottle. If you get this treadmill, you may want to buy a fan to place nearby as it does not come equipped with a cooling fan. This is the price that you pay when you get a treadmill that is in the basic range.
Is the Treadmill Apartment Friendly?
Those who use the cushioning could probably get away with walking on the treadmill when in an apartment. Keep in mind that those who run will probably not think this machine has enough impact absorption. For these cases, a BoxFlex that has a very tall platform would be a better investment.
Additionally, the treadmill is better for home-usage. It can be loud, which leads to people who have thin walls upsetting the neighbors that are in close proximity. All in all, the treadmill is something that will be good in a home.
It can be difficult to hear the music over the treadmill, so noise-canceling headphones that play music could be a solution to this issue. However, with that said, a person can make use of the BlueTooth speakers built-in if one does not mind jacking up the sound a bit.
One thing about the treadmill that makes it apartment-friendly is the fact that you can fold it up when you are done due to the SpaceSaver and EasyLift Assist.
Is there a Warranty?
There is a warranty on this machine. The actual frame has a lifetime warranty. The motor is covered for 25 years. Finally, the parts and labor are covered for one year each.
This does mean that if a person has a problem, it is worth fixing this treadmill rather than investing in a new one. This means that the warranty is something that a person should really keep after buying the machine.
Conclusion Nordictrack t6 5s review
Though it may seem like a basic machine, if you can get this treadmill at half off, it is worth getting. The features and warranty pay for themselves. This is a good choice for self-starters that can make up the rest of their workout on the floor with a mat.
A person could really save on gym fees by just getting a treadmill for cardio. Also, the fact that one does not need a lot of space is a bonus. The machine is ready to be folded up and tucked away until the next use. This is certainly something to enjoy about the features. This treadmill is a definite way to avoid disappointment and a good house friendly find.