NordicTrack T Series Treadmill – is it a good one to buy or not? We all promised that in the new year, we would be different. We were people that wanted better for 2021. Some of the goals that we have, like socializing more, will not be a reality in 2021 most likely.
However, others, such as better fitness, are within our reach. This is where a person should seriously consider purchasing a treadmill to make these goals happen. The NordicTrack T Series Treadmill is an excellent place to start. In this article, we will be exploring if this machine really lives up to the hype.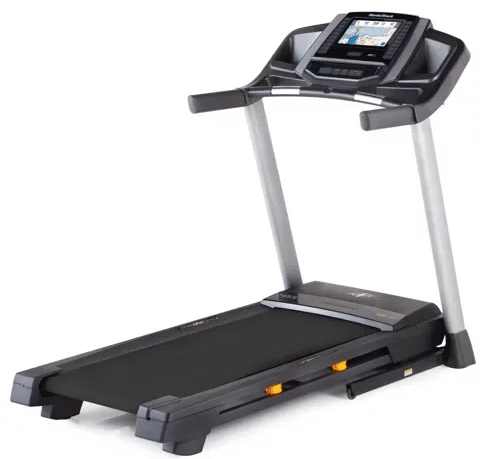 Nordictrack Treadmill model T series
Sleek Exterior
In terms of looks, the NordicTrack T Series has a lot going for it. With the grey metal posts and the black setting, it will blend right in. The feature section of it is large and there are buttons as well as a screen.
There are handles on each side for firm gripping. The treadmill has a wide base and it seems there is a cushion of air between the point of impact and the floor. The build itself of the machine makes it off to a good start.
Are There Any Add-Ons?
Typically, we look for why the machine stands out from the pack. This one is powered by iFit. It also comes with a free one year iFit Family Membership. This membership is perfect for someone who finds that they cannot get motivated to get on their work-out equipment. This means that they can simply get on the machine and they will have access to live studios and global work-outs.
This can be a powerful motivator to keep working out. The value of this membership is almost $500. This means that people can save money on personal trainers and gyms as they can work-out at home.
There is also a SMART response which means a person can just touch a button and start a specific workout program. This makes starting the workout easier as well as for deciding to transition to a different one.
What is the Incline Like and How Many Programs?
The incline goes to 10%. This is pretty standard but it is not one of the best incline and decline ranges out there. One of the best parts though of the incline is that you can do it on this one with one touch. Also, a person can run up to ten miles per hour. Again, this is sort of standard in terms of speeds.
There are treadmills that will go faster. However, one advantage to this one is that you can control it at the click of a button. There is a library of interactive workouts on the machine.
This is more than a lot of machines have as some only have ten programs. In addition, the library is very diverse in terms of the types of workouts that you can select such as Bootcamp and Incline Training.
The trainer will actually increase the speed of the machine too. This makes the work-outs very interesting. It is like having a personal trainer in the room or going to a class where there are workout machines. There is also access to personal coaching training sessions on the ten-inch monitor.
This option is really what makes this treadmill stand out from the rest. The fact that there are 16,000 different training session work-outs means that literally, a person will never run out of workouts to do. Also, the machine allows for multiple users if you are sharing it with family members or roommates.
What Are Customers Saying?
On Amazon, the ratings are 4.5 out of 5 stars. This is a pretty solidly high rating. In addition, the sample size so far is 11,926. This means that there are a lot of people out there that have purchased the treadmill and taken the time to review it.
It also means that the top rating is pretty consistent among the consumer population. One consumer even said that it was almost perfect. Those who are serious about a good work-out shouldn't mind that there is no inbuilt fan or TV screen. It's generally a type of machine that works well for work-out enthusiasts anyway.
One thing though to take away from the ratings is that it needs an iFit subscription to work. You get a year-long one free, so this shouldn't be a problem. A person should really only invest in a machine like this anyway if one is willing to continue to renew the iFit. Otherwise really, there is no point to purchasing a treadmill like this that is so complex.
Conclusion Nordictrack T Series Treadmills
If you are ready to take on new technology, then this could be the machine for you. You are the type of person that needs variety in a workout, and this machine will accommodate quite nicely. For those who find that they are constantly looking for reasons to get on the treadmill, there should be no better motivation than the iFit subscription.
No one wants to waste money on any sort of subscription service that one does not even use. This is why this machine is great for people that need a little extra coaching. It can help to have someone to push you while you do your treadmill workout.