Muscletech Clear Muscle promises to be the most advanced strength and muscle builder in the market. The supplement comes with a unique muscle builder ingredient called BetaTOR which has never been used in any formula before.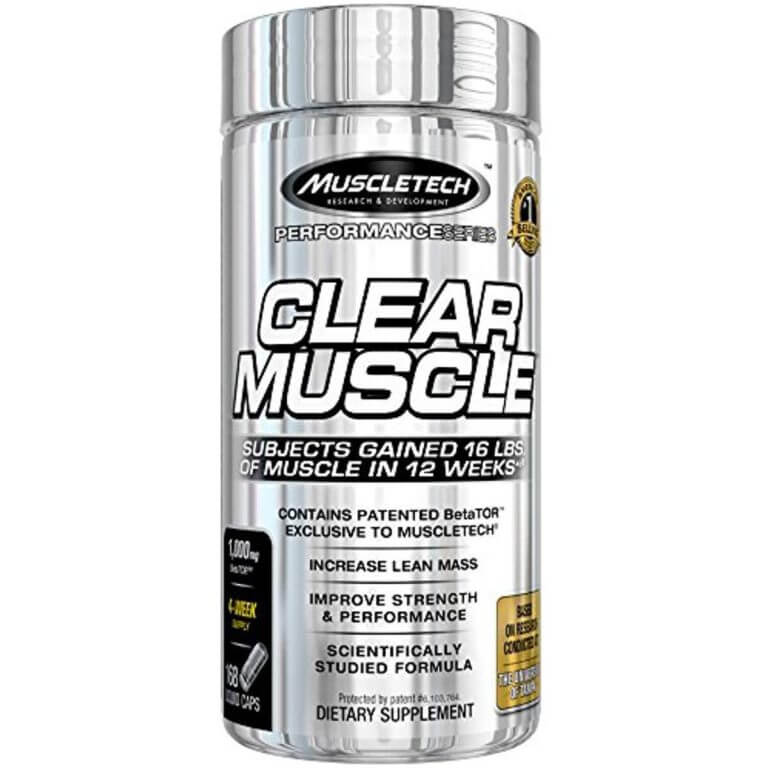 The supplement comes in transparent liquid-filled pills containing free-acid HMB and claims to increase muscle mass, increase strength, and quicken recovery. The company says that 1 gm dose of BetaTOR provides the benefits of 200 gm of high-quality whey protein. So far so good!
But does BetaTOR really prove to be worth all the buzz? Is Clear Muscle really able to deliver what they promise to the customers?
We will try to find out in the Muscletech Clear Muscle Review.
In order to determine the efficiency of the supplement we first take a look at BetaTOR, the main ingredient.
Super Charge your Muscle Workout: With Muscle Creatine. Click Here To Try it Today
Muscletech Clear Muscle Next Gen review 
What is BetaTOR?
BetaTOR is the pure form of beta-hydroxy-beta-methylbutyrate (HMB) which occurs in a free acid state. It is generated by our bodies while breaking down the essential amino acid leucine. Leucine can be naturally found in many food items such as soy beans, fish and beef.
HMB has been associated with lean mass, increased strength and reducing muscle damage. Scientists have also found it to facilitate recovery after years of rigorous exercise.
Sheer N.O – Nitric oxide supplement full review
BetaTOR has been found to be an effective form of delivering HMB with beneficial effects.
How does Clear Muscle Work?
BetaTOR impacts your muscle protein which is said to offer all the benefits. Our body synthesize protein and break it down- a process which is known as muscle protein turnover. You can gain muscle by increasing your protein synthesis and cutting down on protein breakdown.
BetaTOR increases your muscle protein synthesis in following ways-
It slows down muscle protein breakdown by acting on the ubiquitin-proteasome proteolytic pathway
It also acts on the mTOR pathway to increase muscle protein systhesis
Reduction in Muscle Protein Breakdown
Intense training can lead to muscle protein breakdown and BetaTOR decreases the process at molecular level. Clinical study has shown BetaTor to reduce muscle protein breakdown by 57%.
Also, read BiOptimizers MassZymes Reviews – Can this supplement help build strong muscles
Research in both humans and animals produced the same results though the exact process is unknown.
Increased Muscle Protein Synthesis
BetaTor influences the process of muscle protein synthesis in multiple ways. It activates the mTOR signaling pathway in muscles resulting in increased myofibrillar protein synthesis.
Myofibrillar proteins are responsible for muscle contractions and regulate the strength of contraction. BetaTor has been found to increase muscle protein synthesis by 70%. Participants taking BetaTOR for 12 weeks also experienced a lean mass gain of 250% compared to placebo group.
Benefits of Clear Muscle BetaTOR Supplement
Super Charge your Muscle Workout: With Muscle Creatine. Click Here To Try it Today
The studies backing the claim of BetaTOR are very few and it is a new thing on the market. Not much can be said about its benefits unless more research is carried out on the subject.
Apart from building muscle, BetaTOR also helps you to –
Maximize strength gain with intense workout- A 12 week study found participants taking BetaTOR to gain 200% more strength.
Reach peak muscle power outputs- BetaTOR increased Wingate Peak power by 54% while increasing vertical jump power by 58%.
Reduce muscle damage during high intensity training to facilitate recovery
Pros
2 clinical studies to back up claims with evidence
Natural ingredients
Easy to digest
Cons
Some users reported discomfort after ingesting the pills
May not provide all benefits as quickly
Final Verdict
Overall, it is one of the better buys out there if you are looking to build muscles quick. While the reviews have been mixed, it's no secret that it's helped a fair few. Are you one of those? Let us know below.
Super Charge your Muscle Workout: With Muscle Creatine. Click Here To Try it Today