Are you looking for the best lean pm reviews? We all want to shed off that extra and feel fit. If you think that just exercise and diet are not cutting it for you, then you can try a fat burning supplement which will accelerate the process of weight loss.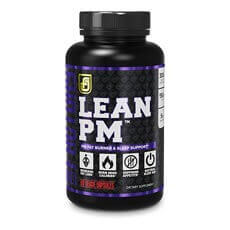 One of the most popular supplements available in the market is Lean PM. This fat burner supplement will not only help you attain all your fitness goals, but it also will improve the quality and pattern of your sleep. Created by Jacked Factory, it has created quite a stir online because of its dual abilities.
In case you are planning to give Lean PM a shot, you should check our review so that you know what you are getting into.
Free of stimulants, this fat burner will not make your body suffer from excessive side effects. The supplement has been designed to speed up fat burning, improve your mental health, help regulate your sleep and even suppress your appetite. The multi-dimensional approach makes the product more effective in the long run. It is noticeable that the supplement does not claim to make you more active, but that can be justified by the lack of stimulants in the product.
Lean PM Fat Burner Ingredients:
Some companies use a proprietary blend when making supplements in order to hide the actual dosage of the ingredients. However, Lean PM does not have a proprietary blend which means that you will be able to learn the exact quantity of all the ingredients.
Vitamin B allows you to keep your normal energy levels. It helps you burn some fat by converting the stored glycogen into glucose.
Magnesium is a mineral that will keep both your mental and physical health in check. It also improves your sleep.
L-Theanine is an amino acid which will help you relax your mind. It does not make your sleepy; instead, it brings down your stress levels so that you feel peaceful when you decide to go to sleep.
Green Tea Extract is a thermogenic agent which will allow your body to burn fat faster and more efficiently. The antioxidants in green tea are also excellent for your health.
5-HTP is known to promote sleep in human bodies. Moreover, it also plays a role in keeping your appetite under check.
Black Pepper Extract helps to enhance the power absorption of the other elements in the supplement. This increases the effectiveness of the product.
Melatonin is a sleep aid, and will help you doze off easily at night. This hormone is created by the body naturally, and Lean PM gives you an extra dose.
While Lean PM does have a fair share of useful ingredients, it could have done with more fat-burning compounds which would help it to work faster.
Lean PM Reviews TIP:
Lean PM has received mixed reviews from users. While some have claimed that the supplement worked great for them and helped them reduce weight, others think that it does not do anything substantial to accelerate the process.
Not a lot of people complain about side effects because Lean PM does not contain a lot of stimulants. You might face problems if you are allergic to an ingredient, but apart from that it is a safe supplement to have.
Verdict:
Lean PM is not the best fat burning supplement that you can get in the market. It does not have effective fat burning ingredients like Cayenne Pepper which could have made a huge difference.
However, that does not mean Lean PM is not worth a try because it claims to address multiple health issues. It is a good stimulant-free fat burning supplement for the price that you are paying. It might even work out for you, especially by improving your sleep. Do not have more than 2 capsules a day, or you run the risk of causing more harm than good to your body.