How to win your ex back fast is a million dollars question to answer. When your ex decides to end things, it can be a very difficult to deal with. Just when you thought that everything was going your way, when this takes place, most couple are not prepared to let it end there.
Before we dive deep in to this topic , we previously wrote an article on some the best ways to get back with your ex , you might need to take a look at it.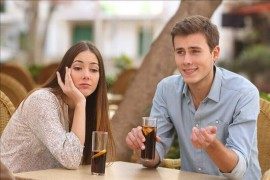 If your significant other decided to breakup with you and you're trying to find out if you still have a chance. The answer is yes however you have to do it the right way, chances are you can worsen the relationship if you don't go about it the correct way. Here is what to do after a breakup .
6 Great Tips To Win Your Ex back Fast
Stay away from disastrous Mistakes
I know this can be difficult to do but when you are heart broken, you're more likely to make mistakes you don't even realize. You will try to make every effort to win your ex back that can sometimes be damaging because that makes you look desperate.
Calling and Texting all the time
This is an obvious mistake so many of you make after a breakup. Constantly calling or texting your significant other. You might be thinking that if you stop calling your ex, they will completely forget about you.
The reality is that when you keep calling your ex, it makes you look to desperate and very unattractive. That can be a complete turn off and push your significant other further away from that relationship
Showing remorse, Begging your Ex:
When you are begging your significant other all the time to get back with you is a crucial mistake that's not how to make him want you. That shows your weakness and your insecurity, that will only make it worse. This very unattractive, as hard as it can be, you need to stay away from it.
For example, if you're telling your ex that your life is nothing with them and you need them in your life that is a crucial mistake also. You need to stay away from those desperate moves.
Related: How To Win Your Wife Back Before It's Too Late – 3 Steps Plan
Being Your Significant Other Doormat:
The reality is when your significant other breakup with you, you have a desire to do anything your ex ask you to do. Sometimes you even want to forget about your own personal goal just to focus on why that happen.
When you prove to your significant other that you will do everything, they want you to do, chances are your ex will have no respect. That usually do the opposite which is push them further apart of the relationship that you wish to restore.
Showing Too Much Affection
When your ex decides to move on, one of the crucial mistakes that I have seen many people make is trying to show affection to their ex. That can sometimes make them feel stuck, not knowing what to do.
Gets Angry When Your Significant Other begin to date others
Once you hear that your ex moves one and begin to date others, you get angry and that can send you into a panic mode. You probably thinking that your ex is going to spend his life with someone else.
Being the fact that your Ex you just met with that potential partner, that doesn't mean it is going to happen. Your Ex is just trying new things to see what work, this usually happen sometimes to help cope with a breakup. Try not to overreact.
Here is how to win back the love of your life:
By now you probably realize all the mistakes that you need to stay away from. It's time to learn how to win your ex back. The list below can give you a shot to win your ex back fast if you do it correctly
I know it might not be easy to cope with the breakup. As hard as it maybe you need to stay away from your ex. Stop calling your significant other, stop seeing your ex for a couple days.
This is what we call the no contact rule, that will result in two things: it will make your ex misses you and want to be back with you. When you stop calling, texting your ex that will make you look not desperate.
Another reason why we suggested the no contact rule is because you need to create time to reflect on your own life, think about why the relationships was ended and if this will be right thing for you and your ex back.
Remember it is very important during the no contact rule to stop calling, texting, seeing your ex even if your ex try to call you. This is the right thing if you want to restore the relationship, this should last 15- 20 days.
If your ex tries to contact you during the "not contact" period, do not respond. This will only set you back. You do not need to worry, if they tried to contact you once, they will respond when you are ready to contact them. In the meantime, just relax, they will not get married and have children with someone else during the 30 day period.
Get in Touch with Your Significant Other
After the no contact period you should be ready mentally to discuss things with your ex without breaking down, crying or look desperate.
Contact Your ex when you feel that you are ready and accepted what happen in the first to bring you two this far. You need to accept the way it ended just in case your ex decided to move on and doesn't want you anymore.
How to win your ex back shouldn't be a rocket science if your ex wants you back it will happen but after all you need to move it's not the end of the world.