How to remove calluses can be a challenge for so many. A Callus is a thick skin part that is relatively dry and hard as a result of repeated friction, pressure or irritation. Because repeated contact is the recipe for calluses, they are common on feet as a result of constant walking, which is unavoidable.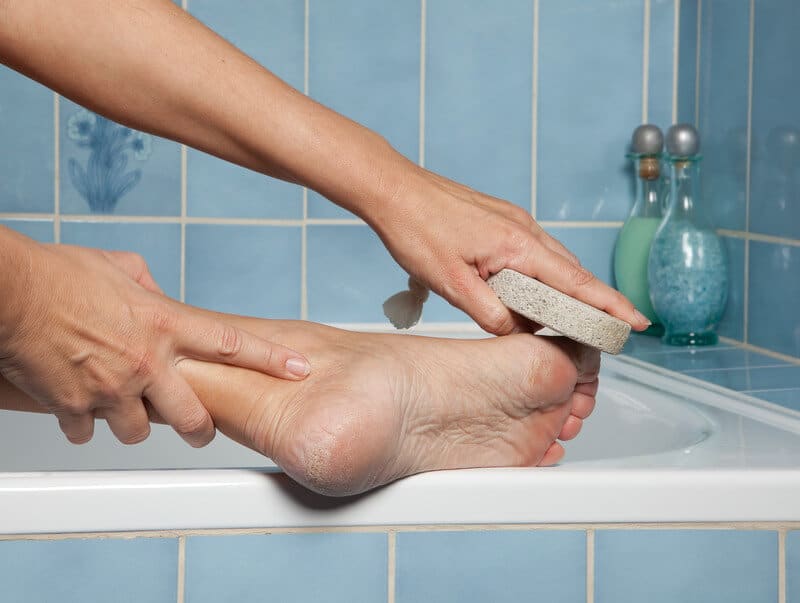 Generally, calluses are not harmful, but they may lead to skin ulceration and infections. However, the good thing is that you can get rid of calluses at ease. The process of how to remove calluses is simple, with most of the requirements being those that you already have at home. However, never attempt to remove calluses by cutting or slicing them because it may lead to a severe infection. There are less painful, easier and secure ways of getting rid of calluses.
The Difference Between Calluses and Corns
Many people confuse Calluses with Corns. But what is the difference between the two?
A callus is formed is at the point where your foot experiences pressure or friction, especially on the heel or ball of the foot.
A corn is a type of a Callus that develops between your toes.
As discussed above, calluses are caused by extreme pressure and friction on the feet's skin, but what causes friction and pressure on our feet also leads to calluses.
The Causes of Calluses
Bad Shoes-Tight, high heeled and loose shoes.
Wearing shoes in the absence of socks.
Walking with your bare feet (Without shoes).
Standing for long hours.
Having sweaty feet.
How to Remove Calluses on the Feet
1. Soaking Method:
Soak your feet in some chamomile tea for between 20-30 minutes. The activity softens the hard skin. Staining may take place, but you can easily remove that later using soap and water.
Add three tablespoons of baking soda to warm water and soak your feet. Baking Soda dissolves the dead skin and removes the calluses. Let your feet rest in the mixture for around 30 minutes.
Epsom Salt and Lukewarm water
Soaking Calluses on a mixture of Epsom Salt and Lukewarm water softens your skin, while the salt scrubs the corns and callus away.
Read:
Apple Cider Vinegar and Break
Mixing bread and apple cider vinegar forms a paste. To remove calluses, apply the paste on the feet and secure the same using a bandage. Remove the bandage in the morning after waking up.
2. Scrubbing
Rubbing your calluses with a foot pile or a pumice stone removes the permanently.
After bathing, use a file to remove the calluses, something that you can also do after soaking your feet.
Rub the feet in a circular and vigorous motion. In case of a heavy build up, always drip the feet back to the water.
Remember to rinse your pumice stone to make it wet in order to remove the dead skin and repeat the procedure until the skin turns pink.
Calluses are also removed by walking bare footed on wet, sandy beaches.
3. Drying
To get rid of the calluses on your feet, dry the affected areas completely and the problem will perish permanently.
Ensure that that you don't allow your feet to remain dump and remember to use the towel to remove moisture. Sprinkle cornstarch on the affected body areas.That makes the area remain dry, warding off infections.
4. Olive Oil
Applying Olive Oil on your affected feet solves the problem in an incredible way.
Remember to wear cotton socks overnight to facilitate soaking of the skin in the olive oil.
The Olive Oil will soften the feet, greatly reducing calluses.
5. Sesame Oil and Wheat Germ Mixture
Mix wheat germ and Sesame Oil, warm the concoction and remember to add some Sesame seeds.
Allow the oil to cool down and reach room temperatures.
Apply the mixture on calluses every day until the calluses disappear completely.
6. Pineapple
Take a ripe pineapple and peel the skin.
Cover your calluses with the pineapple peel.
Secure the pineapple's peel by the use of a medicated gauge or duct tape.
Interchange the pineapple peel daily because the peels are rich in enzymes that react with callus to dissolve all the dead skin tissues.
7. Onions
Mix sliced onions with vinegar in a big container.
Put the container in a warm place at daytime, after which you should cover the corn with the sliced onions before heading to bed.
Using a bandage tape or a bandage, hold the mixture in place as you sleep.
Repeat the procedure until the calluses are gone.
8. Lemon
Slice some lemons in the evening before you go to sleep.
Place the lemon over some corn, secure with a bandage and cover with a cotton sock through the night.
Repeat the same every night until the calluses disappear.
After your Calluses have healed, you definitely need to prevent yourself from the same problem in future, which is why we have researched on the best ways to prevent Calluses.
How to prevent calluses: 5 Ways of Preventing Calluses
Measure your Shoes Professionally
Majority of us ignore measuring our feet for the shoes that fit us. Ladies are worst affected, because they easily sacrifice comfort and health for style.
Both the length and width of your shoes must be taken into consideration.
A space of around half an inch should be allowed between your longest toe and the shoe.
Fitting shoes easily wiggle without restriction, which minimizes the chances of suffering from calluses.
Avoid Shoes with Very High Heels or those that are very Pointed
 Ladies, you must understand that health is more important than fashion. You cannot accomplish both good health and fashion, sometimes you have to choose one.
Avoid shoes that squeeze your toes or hoist you. Remain stylish, but also mind the health of your feet.
Replace your Shoes after they Wear Down
For proper foot support, always ensure that you replace your shoes after wearing them for some time. Regardless of whether or not they cause you pain, they need replacement to ensure you have the proper foot support.
Ensure that you use Corn Pads, Shoe Insoles and Toe Separators
Almost all drug stores have foot care products that you can always purchase.
Always ensure that you buy all necessary shoe care products to keep your feet free from calluses.
Regularly Visit a Podiatrist for Checkups
Whenever you feel discomfort with your feet, always visit a Podiatrist for checkups. The doctor will access your situation and offer a personalized recommendation.
As you can see how to remove calluses can be easy if you use the correct techniques .Calluses are both treatable and preventable, you only need to follow the advice above and the health of your feet will always be excellent