How to get  rid of dark circles  can  be a challenge. They are defined as a dark discoloration on the human skin, which are also called shadows or dark rings. The dark circles are caused by prolonged crying, dry skin, hereditary factors, aging, physical and mental stress, unhealthy feeding and lack of enough sleep.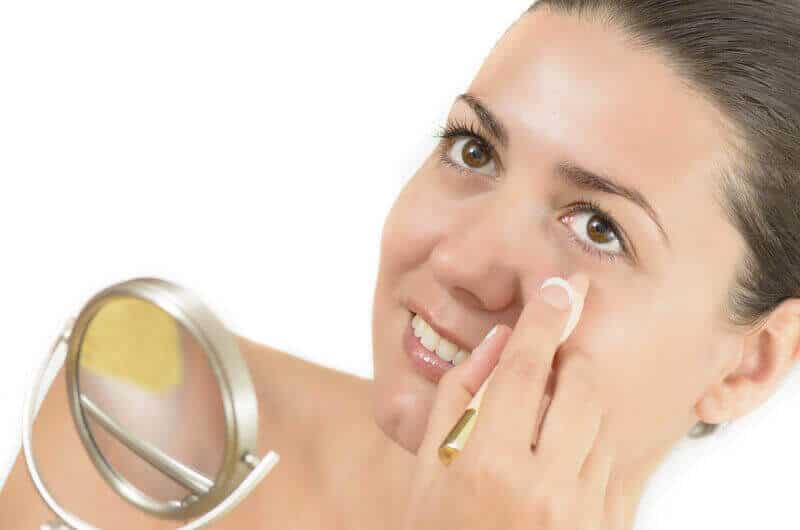 Despite the fact that dark circles are regarded as a less serious skin condition, the fact remains that make you look exhausted, molder, unhealthy and tired. However, dark circles can easily be eliminated at home, using some simplified home remedies. Here are some remedies that will help you to learn how to get rid of dark circles.
12 WAYS TO GET RID OF DARK CIRCLES Fast
Almond Oil
Almond oil is a pure and natural ingredient that helps in eliminating dark circles by lightening them. To use this remedy, combine the oil with vitamin E oil and you will forget about the dark circles. The good thing with the oil is that it is available in almost all households.
Directions:
Apply almond oil over the dark circles and massage the same on your skin.
Leave the oil over the night
In the morning, wash the face with cold water immediately after waking up.
Repeat the procedure daily until the dark circles disappear.
Cucumber
I am sure you have come across some Hollywood movies where ladies relax as spas with some cucumber slices placed on the eyes. There must be a reason behind that. Cucumbers have mild astringent and skin lightening properties that fix dark circles. Beyond that, the cucumber will refresh and sooth you as well.
Directions:
Take a fresh cucumber and cut it into thick slices and make it chill for about 20 minutes.
Place the sliced pieces on the dark circles and let them remain there for around 15 minutes.
Using some warm water, wash the area thoroughly until no traces are left.
Repeat the procedure two times a day for around seven days for the best results.
Read :

HOW TO GET RID OF SPOTS FAST – 5 TIPS YOU MUST USE

 HOW TO REMOVE BAG UNDER EYES FAST

10 WAYS TO REMOVE BLACKHEADS FAST
Raw Potato
Did you know that potatoes have crucial natural breaching agents? When used raw, potatoes will lighten your dark circles and minimize that excess puffiness that has accumulated around the eyes.
Directions:
Grate some chilled potatoes and extract the juice.
Soak some cotton balls in the juice and place the same on closed eyes.
Be sure that the juice has covered your dark circles completely.
Allow the juice to remain on the face for around 15 minutes, after which you should rinse the face with cold water.
Repeat this procedure two times daily for around three weeks for the best results.
Rose Water
Do you know why mothers advise their kids to rinse the eyes with rose water whenever they turn sour? Rose water rejuvenates the skin and also reduces the dark circles, on top of soothing tired eyes. Because rose water has some mild astringent characteristics, it is therefore an incredible remedy if you are looking to know how to get rid of dark circles
Directions:
Soak some cotton pads in rose water for around five minutes.
Close the eyelids and place the soaked pads on top of them.
Leave the pads for around 20 minutes.
Follow the procedure two times a day for around three weeks.
Tomato
Many people know tomato as a vegetable. However, unknown to people is the fact that tomatoes possess some powerful bleaching properties that lighten the skin fast.
Directions:
Mix a tea spoon of tomato juice with two tea spoons of fresh lemon juice.
Apply this mixture gently on the skin affected by dark circles and allow t to sit for around 15 minutes.
Rinse the face off with some cool water.
Repeat the remedy two times a day for between two to three weeks.
Cold Tea Bags
Cold tea bags area a simple technique to eliminate the dark circles. For effective results, soak a green or chamomile tea bag with water. Chill the same by placing it inside the refrigerator for some time. After that, place the same over the eyes. For incredible results, use the remedy regularly.
Cold Milk
Using cold milk regularly decreases dark circles and soothes the skin. Take some cotton balls and place them in a bowl with iced water or cold milk for some time. After that, apply the cotton ball and ensure it covers the skin affected by dark circles. Let it rest for some time, after which you should wash with warm water.
Orange Juice
Orange juice is an excellent tip you can use if you looking to know how to get rid of dark circles. Mix the orange juice with glycerin drops and apply the mixture over your dark circles. The dark circles diminish and your eyes glow after this procedure.
Yoga/Meditation
The main causes of dark circles are depression, stress and hectic lifestyles. Despite the fact that home remedies are effective, your mind needs to be calm and cool for the best results. If you practice Yoga and meditation regularly, the dark circles decrease and the body clock balances, which calms your body, soul and mind.
Mint Leaves
All of us know mint for its refreshing qualities and invigorating scent. However, mint is also used to eliminate ugly dark circles in your face. Crush some mint leaves with warm water, which will form a paste. Apply the paste on your dark circles, let it rest for 15 minutes and then rinse with some cold water. Repeat the procedure every night for around one week for the best results.
Aloe Vera
Aloe Vera contains some extracts of galore. Therefore, it has the ability to treat pigmentation in the skin and those saggy dark circles on the skin. The anti-oxidant and anti-inflammatory properties in aloe vera provides relief to dark circles, treating them fast. Take some aloe vera extracts and use the same to massage on the skin every night before you go to bed. Use a cotton pad to wipe the face in the morning.
Honey
Honey is a thick natural remedy that works well on your dark circles. Use your fingers to apply honey on the face, which conceals dark circles and also feeds your pigmentation with some anti-oxidant and anti-ageing healing properties. The effective remedy treats the dark circles within a short period.
Video Tips on How to Get Rid Of Dark Circles Fast
People travel the entire world looking for ways to get rid of dark circles, without knowing that they have the remedy at home. As you can see how to get rid of  dark circles shouldn't be a complicated .The cure is right in your kitchen, looking for some expensive cures.