If you are  reading this post most likely you're looking  get a full alli weight Loss Pills review. While you can exercise, if you are looking to lose weight faster, there is nothing like an effective weight loss pill. And we will talk about just one of them below!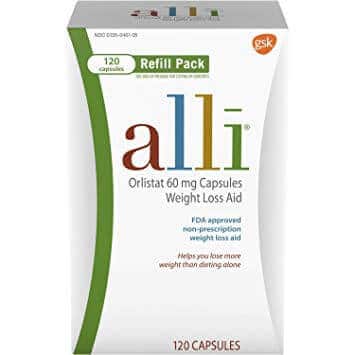 Alli is a weight loss pill coming with an approval from the FDA. The main compound in the pills, orlistat, has been shown to facilitate weight loss in many studies. It also has other beneficial aspects in disease prevention and can be taken without the fear of side effects.
In this post we will provide a scientific review of Alli weight loss pills and find out how they work. We will also explore available research to back up the claims associated with the drug and find out if it is really effective in shedding the extra weight.
What is Alli Weight Loss Pills?
Alli weight loss pills can be purchased over the counter. It has earned approval from FDA as a safe drug in 1999 and used for long-term obesity management.
It is a pharmaceutical product with the compound orlistat and not a plant-based supplement.
You can also go for prescription-only orlistat pills which come with higher dosage. Alli weight loss pills contain 60 mg of orlistat and is prescribed along with low-fat and calorie limited diets. The drug is suitable for people who are looking to lose 5% to 10% of their body weight.
How does Alli Pills help Reduce Weight?
The main compound of Alli is orlistat which is responsible for its weight loss effects. The compound prevents your body from absorbing the fat available from your diet.
The pills work by blocking an enzyme called lipase found in your gastrointestinal tract. Lipase is required to digest the fat that enters our body through food. The enzyme disintegrates the fat into free fatty acids which are absorbed by your body.
But Alli pills block this enzyme and the fat is not digested by your body. It leaves your system through excretory processes and you don't get fat as a result. Alli acts as a lipase-inhibitor and can cut back the absorption of dietary fat by up to 30%.
Dietary fat also comes with high levels of calories. But as your body is not absorbing the fats, it is also processing low amounts of calories- this also helps you to lose weight.
Scientific Research on Alli Weight Loss Pills
Many studies have been conducted on orlistat and its weight reducing effects.
A weight loss effects examined the effects of orlistat on 3,305 overweight individuals over a period of 4 years. The participants were placed in two groups- one received 3 daily pills of 120 mg of orlistat while the other was subjected to a placebo.
The participants were limited to consuming 800 or fewer calories each day and restricted dietary fat to 30% of calorie intake.
The group receiving orlistat lost an average of 23.3 pounds  in the first year compared to 13.6 pounds in the placebo group. Over 4 years, the orlistat group lost 12.8 pounds compared to 6.6 pounds achieved by the placebo group.
The study found that orlistat combined with proper diet and exercise can make you lose twice the weight possible through exercise or diet alone.
Another review study was conducted to confirm the findings of the above experiment. It concluded that orlistat helped lose 7.5 pounds more than placebo over a period of 12 months.
Alli Weight Loss Pills can help you lose significant weight when combined with proper diet and exercise.
Pros
Approved by FDA
No side effects
Backed by scientific evidence
Cons
Requires diet restrictions and exercise to provide optimum results